European natural gas prices calmed down on Friday after the EU reached agreement on energy market regulation measures, and strong wind boosting the share of renewable power generation.
UK price benchmark NBP fell 1.3% to USD 34.91/MMBtu, as wind energy on Friday accounted for 55% of UK's power generation, according to WindEurope. The strong share of wind in power in the UK has been sustained over the weekend, with an over 42% share on Sunday.
Meanwhile, TTF prices saw a minor 0.4% uptick day on day to USD 37.92/MMBtu. The EU's political decision to introduce five measures to regulate the volatile European market prices has temporarily lifted the pressure off the Dutch marker.
The US Henry Hub front-month contract saw an almost 4% dip on Friday, after a one-day trading break due to Thanksgiving celebrations, settling at USD 7.02/MMBtu.
Oil prices also slid on Friday after months of strength, as top oil imported China announces additional Covid-19 lockdowns which is expected to damage demand.
Brent saw a 2% fall to USD 83.63/barrel, while WTI declined by a further 2.3% day on day to USD 76.28/barrel.
Front-month futures and indexes at last close with day-on-day changes (click to enlarge):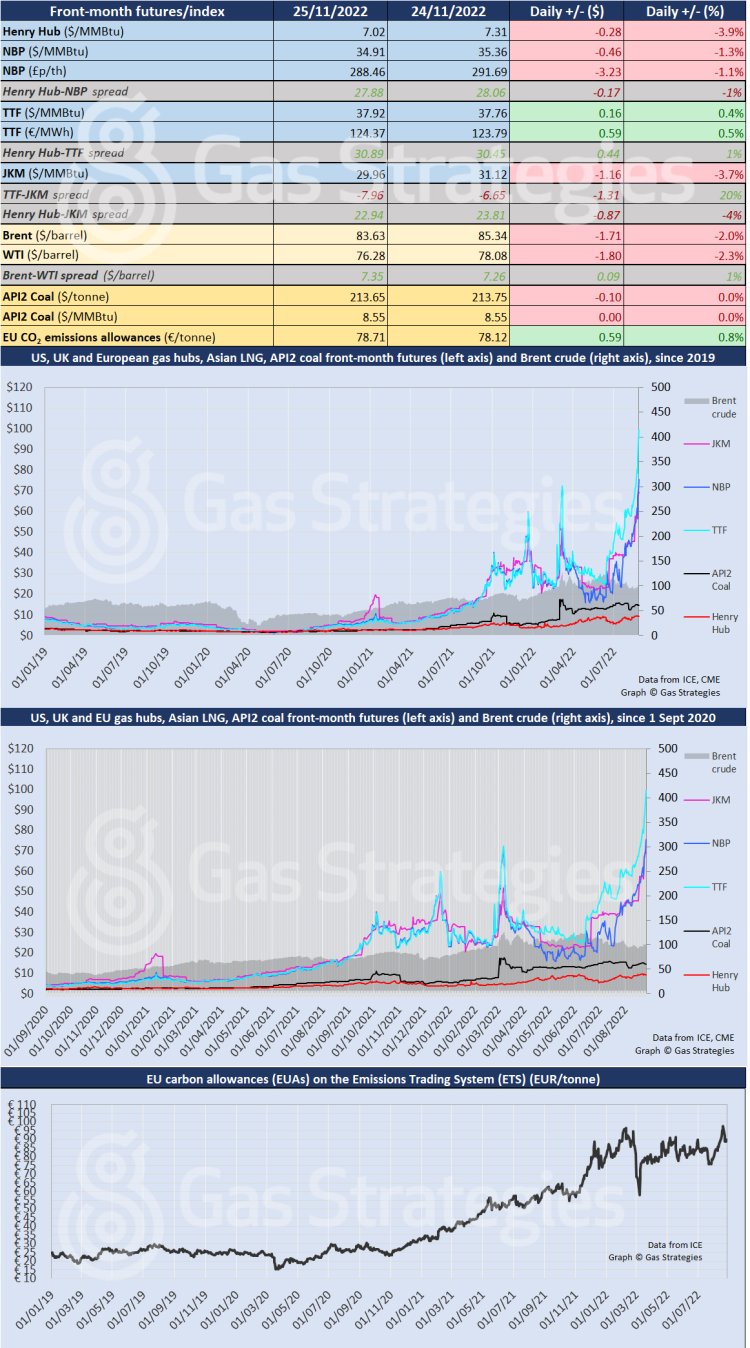 [1]
Time references based on London GMT. Brent, WTI, NBP, TTF and EU CO2 data from ICE. Henry Hub, JKM and API2 data from CME. Prices in USD/MMBtu based on exchange rates at last market close. All monetary values rounded to nearest whole cent/penny. Text and graphic copyright © Gas Strategies, all rights.